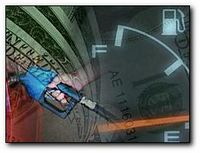 All of the gas stations around the house are out of "
fuel
".
Lets see we have a couple of gallons for the lawn mower and I think we can fit a saddle on the dog.
Not nearly as bad as what the people in New Orleans are going through.
I was in Charlotte last night and there were lines at every single station with police officers directing people in and out.