We had a wet and soggy Memorial Day cook-out. A feast of hamburger, hotdogs, turkey sausage, corn, fruit salad, baked beans & tater tot casserole (Are you gonna eat your tots?). We were forced to grill under the dryness of the wysteria bush as the adult males nursed ice cold Bass Ale from the bottle.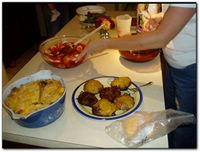 "Goose" spent some quality time with Mr. Nathan as "H" tried to baby proof the house. Mr. Nathan is now walking and Frick's World is a whole new un-explored place to him. Cider even managed to give him a kiss.
Mr. Russ, "H" & Cider partake in a friendly game of wet dodgeball. Cider stood by the grill keeping an open eye for any escaped hamburgers.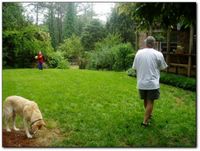 It's now 7:30 we've cleaned up and our company has departed and of course the rain has stopped. At least there are a couple of Bass Ale's left in the fridge.