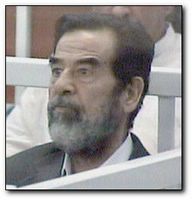 I was flipping through the channels and saw a courtroom shot of Saddam's trial. It looks like they have this guy sitting in a giant playpen. I found myself listening to the talking head go on and on for what seemed like eternity as to all of the security measures that were in place.
(Quick Cut To The Courtroom)
"OK lets see Mr Saddam terrorist sir you need to stay inside this 3 foot high white fence. No, no Mr Saddam terrorist sir this is not a playpen it is in fact the pinnacle of the security pyramid, honest. Now go ahead and get inside your playpen, I mean security cube and please don't try to hop the fence Mr Saddam terrorist sir."
Didn't anybody see what "
Brian Nichols
" did inside an Atlanta courtroom? Well maybe the City Of Baghdad isn't staffed by the same firm that the City Of Atlanta uses.
Hey, were these two guys partying together or what?