When October rolls around it means we can burn, and since we can burn it means I can clean up a years worth of fallen and cut limbs.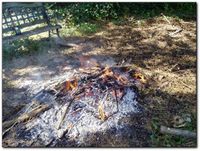 Burning is tough work.
First, you need some kind of a long pole or rake to poke at the fire and move things around.
Next can't get too close or you'll singe all of the hair off of your legs, and I mean all.
Finally have to announce to the kids every 5 minutes or so "Be careful, the fires hot"
You have to keep your ears open for the sound of fire trucks as well.
If you do hear sirens in your neighborhood or in your cul-de-sac this is usually a good sign that things have gotten a little bit out of hand.
As we were clearing and burning we uncovered all kinds of mushrooms or as I like to call them "Fun Guys".
Both of the kids bailed on us for the evening, so "The Wife" and I actually got a chance to go out to dinner, just the 2 of us.