It was a crisp fall Georgia morning and what better to do than take a trip up to Helen, GA for a little "
Oktoberfest Celebration
". Us and about half of the state were planning the same thing.
I just love the Georgia mountain roadside, you will find the landscape dotted with yard sales and small Mom & Pop produce stands.
As we were approaching Helen we can across this home spun grass roots marketing campaign for the local handyman. Now I'm not exactly sure if it was the ex-wife or the ex-husband that put up this sign but it's effective marketing in my mind.
No more than 1/2 a mile down the road we came across the competition "Rent-A-Redneck".
We stopped by "
Nora Mills
" on the way into town. They still use the river to grind corn into grits (the official Georgia breakfast food).
The old gas pump in front was showing gas at 13 cents per gallon. I backed the sled up to it, no luck dry as a bone.
We spent time feeding the trout.
We made it to town by 10:00 am.
I never realized that the rebel flag was so prevalent in Bavarian towns till I saw this place.
We were cramming funnel cakes down our throats by 10:34 am.
We stopped for a somewhat authentic German lunch.
The wife selected a Reuben with German potato salad.
While I was all about the beer (German, of course) and Brauts. Oh yeah, some German french fries as well.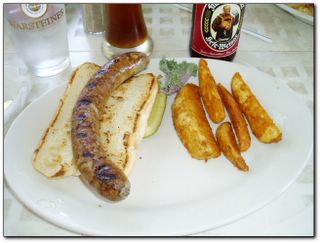 Now you gotta admire these two. Here we are at the height of Oktoberfest, German beer on every corner and this guy is hauling a 12 pack of Bud Light. I bet his buddy has pork rinds in his bag.
We got in our "Georgia History" for the day while in town.
Helen is home to the largest Pitch Pine in the state. I've never heard of a Pitch Pine but it's comforting to know that we got to see the largest in the state.
I carved my initials in it after I took this picture.
"H" showing his true feelings for his sister.
We stopped by Fritchies after a quick visit with my parents.
"The Wife" is getting pretty good at snapping pictures from inside a car.