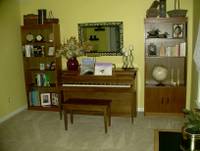 We are done with the living room? I think, I'm not sure, I don't know....
It's supposed to be a library, I think because it has books and a globe.
If you ever paint a ceiling wear goggles for your eyes. The wife and I looked as though we had spotted yellow fever when we were done.
I would have gotten a closer picture but I am not allowed to put footprints in the carpet.
I am hoping the floor trusses will hold the piano and I don't wake up to find the piano in the basement. While we were searching for items to stock the bookcase shelves with I came across some priceless pictures that will be posted later today.